The Reverend Charles Norris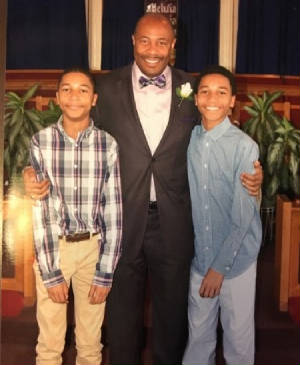 December 2016 Rev. Charles Norris was appointed the thirty-seventh (37th) pastor of St. James AME Church. Along with him are Deven and Dilyn.
Academics
Rev. Charles Norris earned a MBA from Arizona State University's W.P. Carey School of Business. Additional training includes a Bachelors of Science Degree in Business Management, a Masters Certificate in Project Management from George Washington University, Global Leadership Certificate from American International School of Management at Thunderbird, Distributed Technologies Certificate from Technical Resources Center, and a Competent Toastmasters Certificate from Toastmasters International. Also, Rev. Norris has been theologically trained at Moody Bible Institute of Chicago, Chicago Baptist Institute, Fuller Theological Seminary, and is an Itinerant Elder in the African Methodist Episcopal Church.
Professionally
Rev. Norris has been employed in various technical and management roles for 20 years. His roles have included, System's Programmer, Account Manager, Quality Manager, and Program Manager. Motorola relocated him to Scottsdale Arizona in July of 1994. In an effort to improve the quality of life for his family and spend more time with them, Rev. Norris left the corporate ranks to pursue a career with non profit organizations in 2004. Rev. Norris as owner of Chuck Norris and Associates, LLC focused on helping small and medium sized non-profits to build their fundraising infrastructure. Prior to becoming a small business owner, he was the Director of Development and External Affairs at All Saints' Episcopal Day School. Additionally, he has served as the President of the Arizona Episcopal Schools Foundation for the past 18 months. An accomplished fundraiser, Rev. Norris now strives to make his ministry his business.
Community of Faith
Always active in community affairs, his work has earned him many awards. He was awarded the Motorola's CEO Award for Volunteerism. Additionally, he was Black Data Processing Associates (BDPA) 1998 Member of the Year. Rev. Norris served on Advisory Boards to Governors Napolitano and Brewer of Arizona, and served as Public Policy Chair for the Phoenix Black Chamber of Commerce. As an Associate Pastor at the Historic Tanner Chapel AME Church in Phoenix, AZ, Rev. Norris led First Friday Worship service, led development of the first church website, led strategic planning to establish Tanner Community Development Corporation, established an Early Childhood Development Program, Supply Pastor for Harbert Chapel AME church in Flagstaff AZ, established Weekly Health Tip for the Bulletin, co-founder of Men's Prayer Breakfast, and created the Annual Report for Men of Tanner.

In December 2010, Reverend Norris was appointed Pastor of Prince Chapel by the Sea AME church. Accepting the call to full time ministry allowed Reverend Norris to utilize his leadership and management experiences in for-profit and not-for-profit businesses, and now faith based organizations to the glory of God. Under his leadership, the congregation grew numerically, spiritually, and finncially.
A tireless leader and worker, Rev Norris serves on the Boards of United African American Ministerial Action Council (UAAMAC), Sigma Pi Phi Fraternities (Alpha Pi Boule), and Director for Kiwanis International (La Jolla Club). Additionally, he is a member Phi Beta Sigma Fraternity, Project Management Institute, and a youth basketball coach.
Under his direction, Prince Chapel established a Youth Male Mentoring Ministry that emphasizes the spoken word, written word, and being the word. A Community Development Corporation, Family Resource Support Center. The website has been redesigned and a new church logo created.
Online giving is now available through the website. In an effort to minister to the whole person, a Health Ministry was established with strategic relationships with American Heart Associations and Be There San Diego. As a result of the relationship, the congregation received iPads and blood pressure cuffs to assist with our healthy heart message to the community. The parsonage and rental properties were renovated, new AC/Heating unit installed, and a Building Fund was established.
In the community, Rev. Norris is a member of San Diego Gas & Electric's Community Advisory Board, member of San Diego District Attorney Inter-Faith Advisory Council, where an app to assist law enforcement in being more culturally sensitive was developed. As a member of UAAMAC Board Secretary has led strategic relationship development, update of the by-laws and planning of the Annual MLK Community Breakfast. Most recently Rev. Norris has worked with San Diego Mayor Falconer, Police Chief Shelly Zimmerman and UAAMAC to create and implement a Clergy Crisis Response Team to assist law enforcement with De-escalating tense situations in our communities.
Rev. Norris is the father of twin boys, Deven and Dilyn, and adult daughter, Megan. A willing servant and devoted family man, his favorite scripture is Isaiah 61: 1-3. His constant prayer is for God to set free those who are bound and held captive to things that hinder the realization of their God given talents.