St. James Church Announcements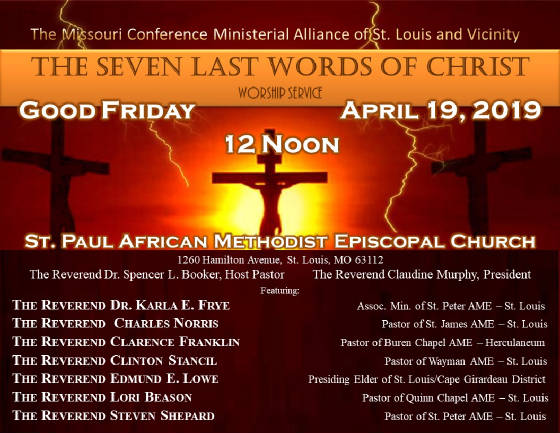 Saturday, April 27, 2019, 1:00 PM: The Sisters of Grace, Women's Ministry's Annual Children's Fashion Show and Taco Salad Bar
is here! Come out and watch our Youth "Strut Their Stuff" and get your lunch all at the same time. We promise a delightful and delectable
event! Free will offering.
Friday, May 3, 2019, 7:00 PM: The In Unison Chorus will give a concert at Powell Hall. It is free with open seating. All In Unison
churches are invited.

The Floral Club is asking for your support again for our 57th Annual Tag Day held on May 5th. Your contribution will be much appreciated. Please see any Floral Club member wearing a flower for a Donation Envelope. Thank you so much. ~Deborah Syas, President
Saturday, June 8, 2019, 4:00 PM: Please join the Missouri Conference Lay Organization for our annual Awards Banquet | The nominees for awards from the StJ this year are Pastor Norris (Pastor of the Year); Marya Rice (Layperson of the Year); Saul Williams (J.D. Williams Award); Brenda Simpson (President's Circle Award); Stephanie White (Community Service Award) | Tickets are $40 | Ward Chapel AMEC | 11410 Old Halls Ferry Road, 63033. For more information, please see any Lay member. ~Brenda Simpson, StJ Lay President & Pamela Williams, MCLO President
Saturday, June 22, 2019: Join the Missouri Conference WMS for our annual Jewels of the Missouri Conference luncheon and recognition program. Our jewel from StJ this year is the Rev. T. Michelle Rickmon | St. Paul AMEC, 1260 Hamilton, 63112 | Doors open at 11, Luncheon
starts at 11:30 | Tickets are $40, Patrons are $10. Please see any member of the StJ WMS for tickets or more information. ~Mattie LeFlore, President
FRIENDS AND FAMILY DAY: To all Team and Family Leaders: Please begin to contact those on your current team and others to begin
preparation for this year's event. Friends and Family day is scheduled for June 23, 2019. Also, think of programs, activities and other
events you want in this year's program. Our first meeting will soon be with Pastor Norris. This planning meeting is open to everyone interested
in participating in planning this event.

SAVE-THE-DATE: Saturday, July 13, 2019: 3rd Annual MultiGenerational Golf Tournament sponsored by the Richard Allen Baby
Boomers Ministry. The tournament will be held at the Florissant Golf Club, 50 Country Club Lane, Florissant, MO 63033. Registration and
detailed information coming soon. ~Antoinette Smith, Chair
***Please encourage everyone to join us on Sundays for our Worship Experience at about 10:45 AM via our Facebook page.